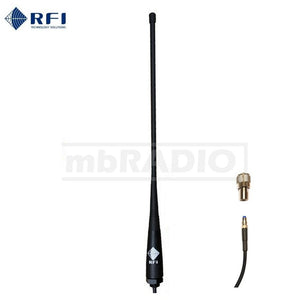 RFI CD34-71-73 4 dBi UHF CB 477MHz STUD MOUNT ANTENNA, 5M CABLE & CONNECTORS
CD34-71-73
$5995

$59.95
Tax included.
Shipping
calculated at checkout.
---
---
Ground Independent Mopole Stud Mount (not detachable from cable) Antenna, cable & Connectors.

The CD34 Series Mopole antenna is specifically designed to be used in a variety of mounting positions such as a vehicle mirror, gutter or roof rack. Mounting in such positions, the CD34 is the ideal substitute for an antenna which would normally need to be mounted in the centre of a metal roof to obtain maximum efficiency. Ground plane independent design allows installation in almost any location.

Features:
The CD34 antenna is an end-fed dipole (1/2 wave) with a tuned circuit incorporated in the base and a fully moulded radiating element. The end result is a tremendously rugged antenna suited for almost any application.

The antenna comes with 5 metres RG58 C/U cable & factory terminated with a FME female connector for ease of installation. Also included is a FME male to UHF male adaptor for connection to all UHF CB radios.

Specifications:
Band : 477MHz
Tunable Bandwidth : Full. No tuning required
Nominal Gain dBi : 4
Tuning : Supplied pre-tuned
Power W : 50
Cable and Connector : 5.0m RG58C/U cable fitted with FME female connector, PL259 UHF adaptor.
Whip Material : Stainless Steel braid over moulded with UV resistant TPU
Suggested Installation : Bracket
Whip Length : 330mm
VSWR : <1.5:1


---
We Also Recommend